Top 6 tips for Air Rifle Beginners
4 Comments
20 November 2021 |
Air Arms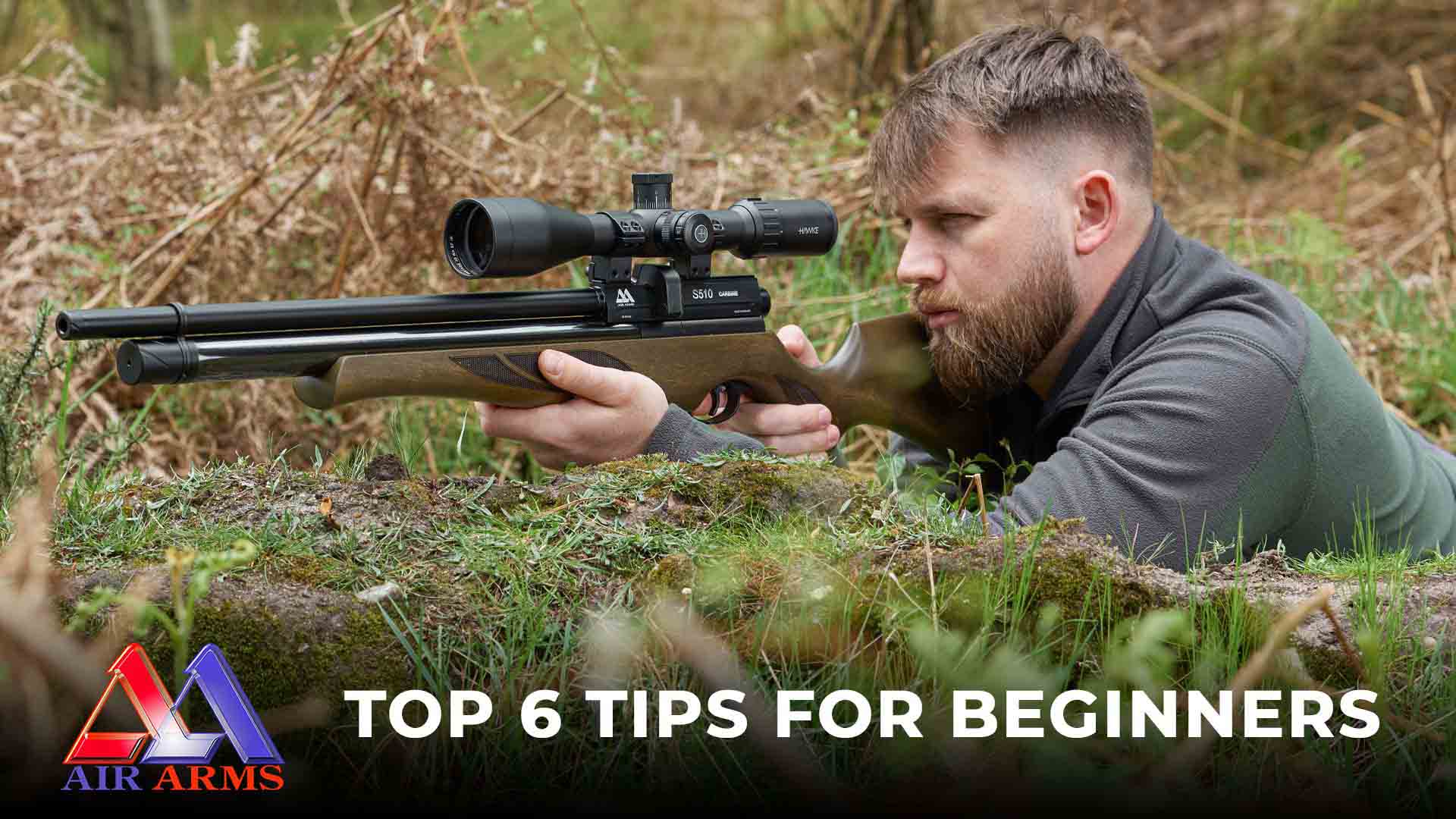 The Best advice for anyone who's just started shooting an Air Rifle!
Here at Air Arms, we understand that shooting an air rifle is a wonderful and enjoyable activity, we love to get the community involved and help fellow members to learn and hone their shooting skills. We asked you the community on the best advice for anyone who has just picked up a rifle for the first time. We were not let down, we had so many messages and comments, everyone from professional pest controllers to backyard plinkers.
Everyone has an important piece of advice to give. When we share our knowledge and experience, we bring down the barrier for anyone who wants to enter the sport. It's so important for new people to get involved in air rifles for the next generation to enjoy this pastime. Earlier this year we spoke to Rob Collins from 'Pass It On Young Sports' about how important it is to get children and young people into air rifles and the work he does to help that.
You can read the full article here - The Air Arms Supporters Range
So we posed the question to our amazing community on the best advice you could give to someone who has just taken up air rifle shooting. We've compiled the best below. Enjoy!
"Go and join a local club. Practice, practice and more practice." – Eddie Jones
This first tip is from an Air Arms Ambassador Eddie Jones. Eddie has a wealth of knowledge from his years of pest controlling. This is sound advice as and goes for anything that you can do. The more your practice the better you will become. Take your time. If you want to see Eddie in action check out his latest pest control in the Welsh Countryside - Watch here.
"Go slowly and be patient, start to learn the wind." – Glenn Walsh
Glenn makes an extremely valid point, that with anything new that thing is to take your time. Be patient and your results will start to improve. The weather plays a decisive role in air rifle shooting, whether your target shooting in a competition or pest controlling on a local permission. So learning the wind early will be very advantageous to your overall shooting career.
"Try different types of pellets to find one that your gun likes" – Mark Teesdale
This is for someone with a little bit experience, they've got the basics down and are now looking to squeeze every ounce of performance out of their rifle. Testing out different types of pellets can help you find consisting grouping in your shooting. Check out our range of pellets here - Air Arms Pellets.
"Go to a local club before buying anything. Talk to people, try their kit and get a feel for what's in your budget before you make an expensive mistake" - Colin Eaton
Colin makes a well thought out point, air rifles can be expensive; costing from a few hundred pounds to a few thousands. Heading to your local club and talking to the experienced shooters will give you great insight into where a good place might be to start. In most cases shooters will let you have a go at their rifles so you can get a good sense of what might work for you and in your budget.
"Learn weapon handling safety before loading it for the first time. Then marksmanship principles." – Aubrey Davies
This is an absolute vital point. Safety must be put at the forefront of any activity involving air rifles. The risk of seriously injuring someone is always there and you need to take every care to make sure you are as safe as possible. It's the first thing that you should learn when handling an air rifle for the first time.
"Don't think you've got to get to a particular standard before you start to compete. A new starter will always be put with someone experienced to help initially" – Michelle Parsons
Competitions are a great way to put your shooting skills to the test and have some fun along the way. There's nothing quite like shooting in a competition, attempting to hit the targets while dealing with any wind and pressure factors, but we can say that you'll meet a bunch of friendly shooters along the way. Michelle makes a fantastic point that you don't need to spend a long time practicing before entering a competition, there will be plenty of friendly shooters who will offer you tips and advice.
You will learn so much more shooting in the real deal instead of practicing. If you want to get better at Field Target then check out this article - Best Advice for beginners in Field Target.
Well, there you have it, our top tips from the community for anyone who has just taken up air rifle shooting. These tips will help you get started and hopefully make your time shooting an air rifle an enjoyable and exciting time.
Make sure you follow us on social media, we regularly post news, tips and tricks and new product releases!