UKAHFT National Series Round 9 – Gary Chillingworth
30 October 2018 | Air Arms
It's that time of year again; the UKAHFT arrives at round 9 of the 2018 series with a roar. For those who are still in contention for an overall place, Quarry Hunters is where it will all be decided.
Going into this final round of the UKHAFT, the Open Class is as close as it's ever been. Five shooters who could take the title and one of these is Air Arms shooter, Neil Wakelin. Neil only needs to beat Simon Vant by a single point to take the title. However, Simon is the current World Champion and is shooting very well at the moment.
Quarry is a funny beast; located close to Caerphilly in Wales it's located on a hillside and has a reputation for putting on tough courses and even tougher wind condition. Normally, when we turn up to this venue, we are greeted by a howling gale and torrential rain. But, for the first time ever, there was blue skies, a cool breeze and it was beautifully warm. Now, without getting too sappy, I believe this was all down to Del (Derrick Stone) who was the lynch pin of Quarry and a good friend to everyone. Unfortunately, just a few months back we lost him and this was the first time we had been to Quarry without him being there. So, I had no doubt that Del had a word with the big man upstairs and gave us the perfect day to remember him and settle the 2018 series.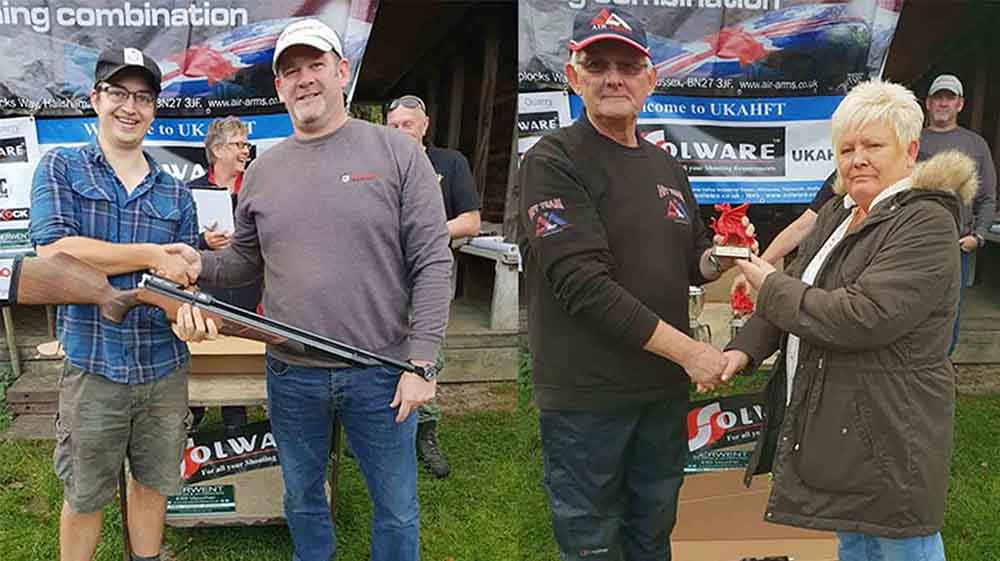 Quarry gave us everything that a shooting completion should, tough targets with range traps and interesting targets atop cliff faces. This course was perfect and I hope that next year, I can try and do it justice.
There were some stunning scores on the day and as usual. Team Air Arms did themselves proud, taking trophies in the Veteran class (Mike Burgess) and the recoiling, where Dan Gordon shot a stunning 55 (only three points behind the top PCP). Also, Jean Greatrex shot a wonderful 49. She continues to better and better at every shoot.
Neil unfortunately could not catch Simon. He did however score well enough to take third place in the Open class overall. But, more of that next month when we shoot the end of season Hurrah (The Gathering) at Furnace Mill.
Dan also won a stunning S400 donated by Air Arms in the raffle.
For more information please view the UKAHFT Calendar.