The HFT European Championships 2019
14 May 2019 | Air Arms
I am pleased to say that the sport of HFT is certainly becoming as popular in Europe as it is in the UK. Every time I travel to Holland or Belgium, the courses get better and better. The welcome is always friendly and the beer is always cold.
The European Championships was held at La Ferme du Chateau at Grupont in Belgium and I am glad to report, it was a resounding success. The HFT Europeans was comprised of a pair of 40 shot courses held over two days and shot to international rules (UKAHFT variant)
The venue (La ferme du Chateau) is a wonderful place and has a real gravitas about it and I would not be lying when I say, I could honestly see a World Championships being held here one day. The courses themselves were long and technical, but what affected us all on day one was the weather. In the space of 90 minutes, we had a mixture of snow, hail and brilliant sunshine with a smattering of rain to add to the pain, but this horrendous weather did not dampen anyone's spirits, it just added to the fun and the challenge.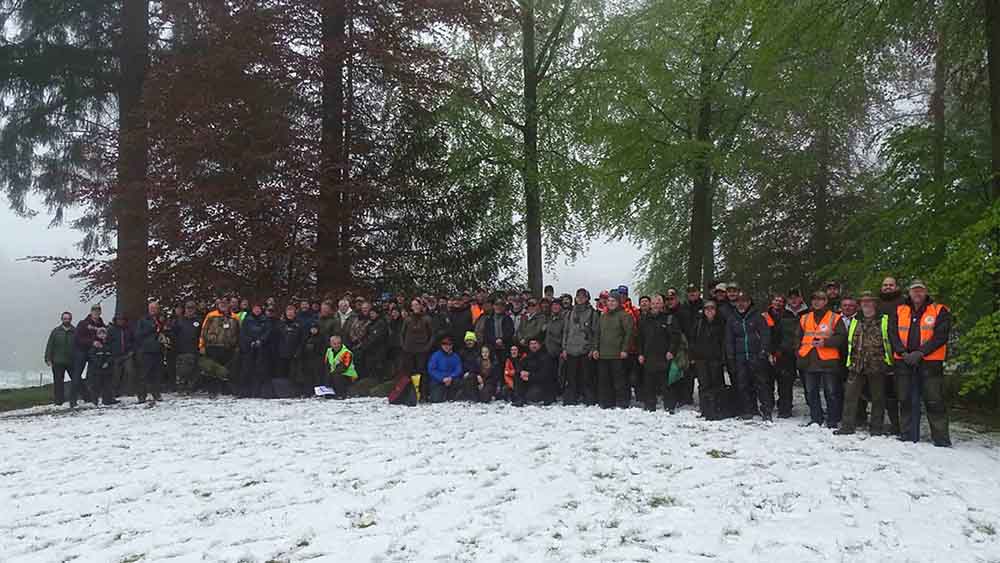 One target that I remember with sadness (in a section I like to call the 'field of eternal pain') was a Flopover Wolf target, this was about 30 yards away. However, when I looked through my scope, all I could see was hail stones the size of rocks. I remember seeing my pellet hit one of these and fly off at a right angle and I am sure I could hear Patrick Van Herten (One of the organisers) laughing maniacally in the background.
About 25 Brits travelled to Belgium with groups from Maldon and Wendover making up the bulk of the UK competitors. We also had a smattering of Scots and a few champions including Dave Ramshead, Richard Woods and Simon Vant, so no matter what, we knew that we could give the Europeans a good run for their money and I am pleased to say, Team UK acquitted themselves very well.
After day one it was tight at the top in all classes, but one competitor showed some real class. Jay Mode is fairly new to shooting and at just 10 years old and armed with his S400, he showed real dedication and grit and was leading the juniors at the end of the first day. For a youngster to take on the stress of a comp like this and conditions like they were and not buckle, shows a real strength of character and he and his dad Jonathan should be very proud.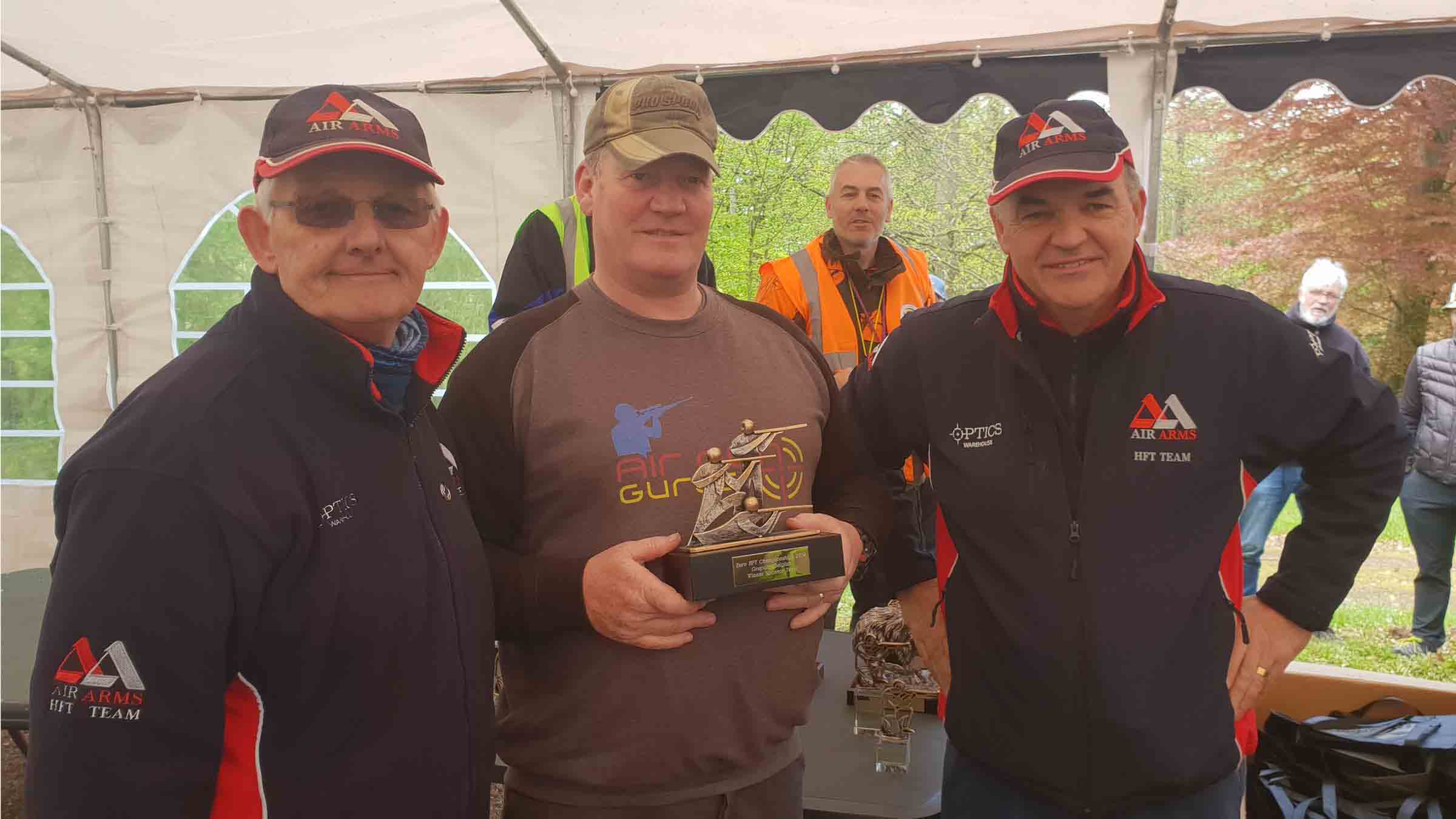 Day two had better conditions with just the odd shower, but everyone was a mixture of tired, happy and wanting to do well. The course on day 2 was every bit as good as day one, with one major advantage; you could now see the targets as there was not longer a blizzard in the way. The second day was all about holding your nerve and for me, I was unfortunately found wanting. I had entered Day 2 in the lead in the recoiling class and all I had to do was plate my final target (A 30 yard stander) to be joint top score, if I killed it, however, I would win the springer class outright. I took a breath, aimed and saw my pellet sail passed the target and slam into a tree to throw me out of the placings (What's the French for nuts?).
There were some shooters who kept their nerve though and in the Open class. Dave Ramshead took the top spot, Michelle Parsons took the ladies, Jonas Fehlhaber took the Springer, Mike Burgess took the Veterans with his mighty FTP900 and in the juniors, Jay Mode held his nerve and won the juniors, beating youngsters who were much older, and more seasoned then him. This was Jay's first none club competition.
The team events were taken by the UK in open class and the Dutch in Springer's, but Air Arms took the manufacturers with a resounding victory.
Finally, the event had many great sponsors, but the prize that everyone wanted to win was the HFT-500 that was donated by Air Arms and Luckily Claire West (the MD of Air Arms) was on Hand to present it to the lucky winner Ron van der Hoeven.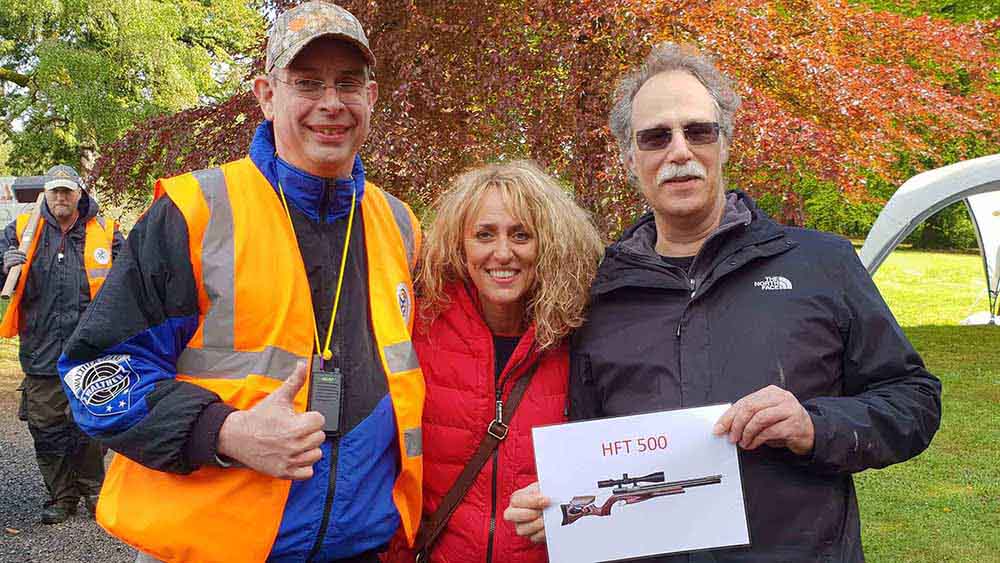 This was a truly great event and huge thanks goes to Patrick and his team. I hope the HFT Euro's will get bigger and bigger every year and I for one will be back next year.