The Air Arms Supporters Range - A Q&A with Rob Collins from 'Pass it on Young Sports'
2 Comments
12 July 2021 |
Air Arms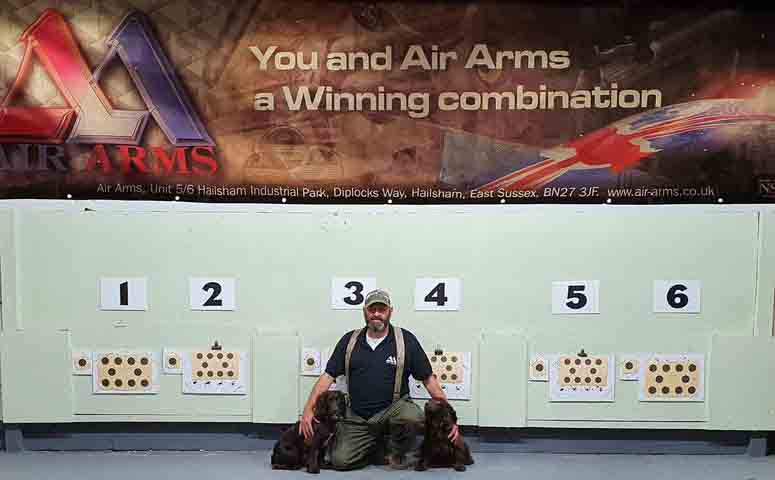 For the sport and the pastime that we all love it's so important for the next generation of shooters to be able to enjoy air rifles in a safe and supportive environment. Air Rifles can be enjoyed in many different ways, whether you're a competitive field target shooter or a casual pest controller on a local farm. Air Rifles have their place within the countryside world and beyond.
One of the challenges for newcomers into the world of air rifles is being able to find a place to give air rifles a go. It can be very daunting for a newcomer to pick up a rifle for the first time and even put them off forever. But air rifles can be one of the best activities to learn a new skill, enjoy the outdoors and become part of a new community.
This is where Rob Collins and Pass it on Young Sports come into play. Pass it on Young Sports is a volunteer-run, non-profit organisation who are passionate about getting new people to enjoy the countryside, field sports and conservation through the exposure of countryside pursuits. Specifically for air rifles, Rob and his team have created the Air Arms Supporters range in partnership with The Lone Ashton and District Rifle Club.
We sat down with Rob to found out more about how this all started and how you can get involved:
Hi Rob, could you introduce yourself and tell us more about what you do?
I'm Rob Collins, head honcho and pointy hat wearer at Pass It On Young Sports as well as Really Wild Adventures, I am otherwise known as The Ole Hedge Creeper in my media scribble, books, TV and Radio appearances.
So, tell us about 'Pass it on Young Sports' and how you got involved?

Pass It On Young Sports was born around 12 years ago, then it was known as The Woodspring Pigeon & Shooting Clubs youth development programme, I am chairman of that club still to this day, 10 years ago we outgrew the shooting club and joined forces with other Country Sports clubs, now under the new banner that is Pass It On Young Sports. I am still head boy from its inception.
Why is it important that young people get involved in shooting and other countryside activities?
Education is the key, young people, kids if you like are inquisitive, they want to know about the taboo subject of guns, if not correctly taught they can get themselves in trouble or worse someone can get hurt, like finding an old air gun in grandparents garage etc, but with proper firearms training that inquisitiveness is educated and suddenly they find a passion for shooting sports, or indeed other countryside sports and activities. It's all of our responsibilities to make sure we educate our young people correctly, as there is always someone ready to teach them the wrong way but teach them correctly and we breed a new generation of fine responsible young ambassadors for countryside sports and activities who will lead us and our respective disciplines into a wonderful bright new future with conservation at its core as it should be in all country and shooting sports.
Why is the 'Air Arms supporters range' so important for air rifle shooting?
The Air Arms Supporters Range was born with a passion for this awesome Air Rifle Manufacturer, my passion for this started way back in 1989 with the Air Arms camargue, I have not looked back since, the Supporters Range started off 4 years ago as a spin off from our family taster days and the families and kids themselves asking us to start this, they loved our Air Arms Range on our famous taster days so much they simply wanted more, especially families who had never shot before. I have so many success stories from ages of 2 years old, up to a grandmother of 92 now taking up air rifle shooting with Air Arms Air Rifles.
How has Air Arms contributed to the range?
Air Arms themselves have been massive supporters of Pass It On Young Sports and our ranges right from the early days, they support us in many ways and are always sending down goody bags for the young sports and us not so young sports. We are hoping to put on an open day with Air Arms themselves at our Long Ashton & District rifle club range who we are in association with for the use of their custom-built rifle range facilities. I must say we are very lucky to have such a prestigious venue as we do.
Has the range been successful since it's started?
The range has been so successful right from that very first night we launched it in the Ring O Bells public house skittle alley, we were packed to capacity on that first night and have not looked back since; mind you we did have a great start with years of ranges on our famous taster days. We have folk bring their kids from all over the country so they can shoot on our ranges too, we outgrew the pub range 2 years ago and by kind invitation of the shooting club we moved our range base to LADRC working in association with them really has helped us grow. The best part is each adult, young sport or old boy like me have the option of joining the actual club too, thus furthering everyone's experience. Plus, the fact all the young sports who want to are now shooting competitively in air rifle leagues and competitions, this has given a new lease of life to so many families actually shooting together. We have young sports teams, ladies' teams, through to senior teams.
What are the most important aspects for new air rifle shooters to learn?
What they should learn from our ranges, first off is correct firearms safety, I guarantee any of my young sports never leave my range without this education and lesson right from the start. I also teach them to pick people up on their safety if they see them breaking my top 5 golden rules. I have several funny stories where the kids have picked up their parents on firearms safety. Then a respect for the guns, themselves, each other, their fellow shooters and I always give them a speech about representing Shooting/Country Sports as our ambassador's. The shooting itself must be enjoyable and fun, but always safety is paramount, the range has now become a social venue too with lots of lifelong friendships being made. I could write a book here but will leave it with this, our ranges are safety first, shooting, camaraderie and a brilliant social place to enjoy shooting sports.
Why is it important that there is a safe environment for young people to learn about Air rifles?
I have said it before and I will say it again, if we don't teach our young people the correct way about the wonderful world of shooting and Country Sports, there are people who will teach them the wrong way, Education is key, our mantra at the end will explain this so eloquently.
If someone wanted to learn more about the Air Arms supporters range, where is the best place for them to go?
If you would like to know more about Pass It On Young Sports, how to get involved, volunteer or come for a family day out at one of our famous taster days. We have regional directors in England, Scotland, Wales and Ireland or if you would like to book in, all you have to do is go over to our regional events page on our website http://www.pass-it-on-young-sports.org.uk/, look for your nearest regional director of your designated country, make contact and you will be pointed in the right direction, it's as simple as that.
Our mantra, we really do stand behind this flag, Teach Them Right, Coach Them Well, for TOGETHER WE CAN INSPIRE.
We couldn't have said it any better ourselves. It great to see Rob making such a huge difference in the air rifle community and ensuring that these sports that we all love can continue for generations. We are so humbled to be able to support ranges like these and hear all of the amazing stories.
If you have a story of when you first picked up an air rifle please share it with us, we love to read them.