Air Rifle Shooting with my Son – John Mode
10 April 2019 | Air Arms
We caught up with John Mode and his son Jay who will be travelling to Belgium to compete in the HFT European Championship in May.
How did you get into air rifle shooting?
I wanted to have a hobby that my son would enjoy rather than sitting in doors playing Xbox and also something we could enjoy together. So we joined Maldon and district air gun club M.A.D. in March 2018 and just started plinking on the range for a few months. Then was asked if we wanted to try one of the monthly club shoots.
What do you enjoy most about HFT shooting?
It has to be for the challenge and getting together with a great bunch of people at the club, everyone is always happy to offer guidance. We always leave learning something new and having a great time.
Why did you decide to enter the HFT European Championship?
My son, Jay won entry in to the HFT European championship. He was so excited that we had to go. It will be an incredible experience for him and me.
What are you looking forward to most about the HFT European Championship?
We are excited to go and compete with other HFT shooters from around the Europe.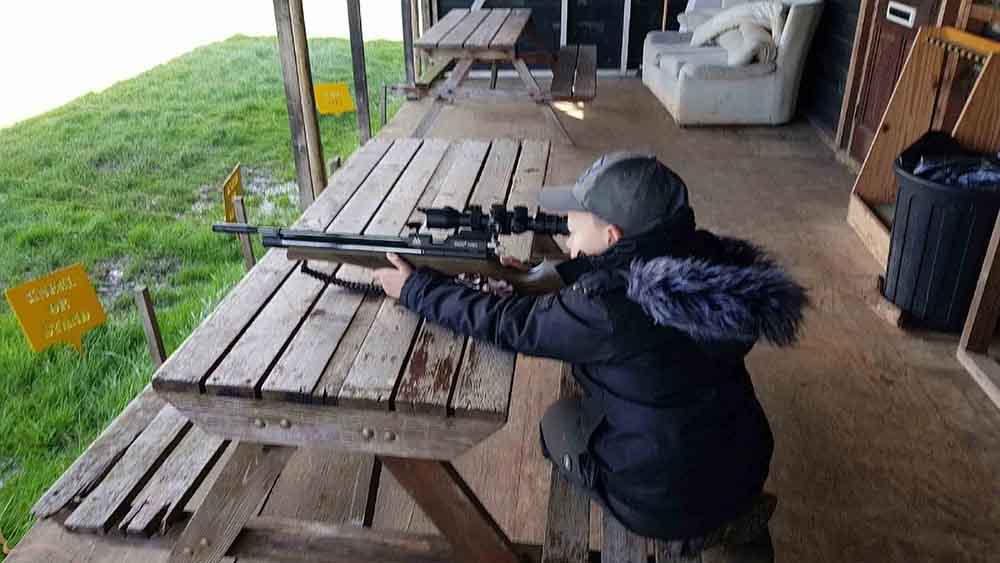 What do you enjoy most about seeing Jay shooting air rifles?
I love to watch how well he does when he's shooting. It's great to see him improve after each shoot and gain invaluable knowledge from the other shooters.
How did you feel when Jay hit his first target?
It was excellent to see Jay knocking down his first target. He couldn't get enough of it. I think the first time we visited M.A.D to join we spent about 7 hours there.
What was Jay's reaction when you went to pick up the S400 Superlite?
I didn't tell Jay that it had been ordered and I just told him we needed to stop in to the air gun centre to pick up some pellets. When got there the man went out the back and brought the rifle out and handed it to Jay. His face was a picture; he was grinning ear to ear and was so happy. He couldn't wait to go to the range to zero it and try it out.
What can Jay learn from using an air rifle?
Jay has learnt how to be safe and sensible when using an air rifle. I think it has also boosted his confidence talking to new people and getting a lot of praise. It's nice to see that he can zero his own scope and fine-tune it to suit himself.
What advice would you give to someone who wants to get their child involved in air rifle shooting?
I would highly recommend air rifle shooting to anyone that wants to have a hobby with their child/ children. It's a great activity and you meet lovely people. You don't need to spend lots of money to get started, you can gradually progress that's what we did.