2019 HFT World Championships
17 September 2019 | Air Arms
Gary Chillingworth gives his round up from the 2019 Hunter Field Target World Championships.
The WHFTA Worlds is now in its 9th year and for 2019 has found a new home at the Midland Game fair a Weston Park. Luckily we are still within the Countryman Fairs family and as they have looked after us so well since 2010 this is a wonderful thing.
The Hunter Field Target Worlds is an event that runs for two days and is set over two courses (Alpha and Bravo). With teams from Nomads HFT and Emley Moor taking a week off from work, had cut, hacked and shaped two wonderful courses into three areas of virgin land to test competitors of all abilities.
As the shooters arrived at Weston Park, they were all presented a goody bag thanks to Air Arms, this included a cap, pellets, badges, pens and a few other bits and pieces.
Alpha course was a wonderful mixture of targets from short angled 15mm that made you question your range finding, to long targets under logs that if you got your range wrong, would see you slamming into some silver birch tree's. One of the best parts of the course however was the quarry section, with near vertical drops to shoot over, this area was a beast. It was hard to range find as there was no midway point between you and the target and this can mess with your head, also, shooters who are not used to shooting targets that are below them, did not realise that like with a elevated target, your shot will often hit high and this caused many shooter to walk away scratching their heads. In fact, come to think of it, the quarry area was a mixture of pellets hitting plates and quiet sobbing.
Day two for us was Bravo course and I was amazed at some of the targets that had been put out. One of the ones I remember was a rat attached halfway up a wall and all I can assume is Perry Broad and his Nomads team must have hired a mountain goat to go up there and set the target.
The quarry section was tough, again with null space between you and the target, you had to rely on your ability to see the target and read the information that was there to help you range find the target. When we moved from the quarry however and into the daylight and the open field, I was taught a very quick lesson in how to shoot in the wind. With a gale blowing from right to left, pellets were being thrown all over and all around me, people were laughing and hugging each other in consolation. The target placement was again wonderful and time after time, your pellet would take two mil dots of wind at 30 yards, but then go straight at 40 yards all down to the angle of where the targets had been placed.
The HFT Worlds was a resounding success with 360 shooters attending, I am fairly certain this is the largest shooting event in Europe if not the world.
Air Arms had some great result with four new World Champions being crowned,
Megan Reed became the Junior World Champ | Air Arms S400:
Pete Muir took the .22 World Title | Air Arms S200:
Mike Burgess became the Veterans World Champion | Air Arms FTP 900:
Slawomir Opiela became the recoiling World Champion | Air Arms TX200:
Other honourable mentions go to:
Gary Chillingworth taking 2nd in the recoiling | Air Arms TX200 HC:
Bill Jones taking 2nd in the Veterans | Air Arms HFT-500:
Nick Byrne took 3rd in the .22
Paul Kelly took 6th in the Open just in front of John Fleming who was 8th.
Jill Cochrane was the winner of a stunning HFT-500 from the raffle and was very happy.
Finally, well done to Team Air Arms who finished in 2nd place in the team event: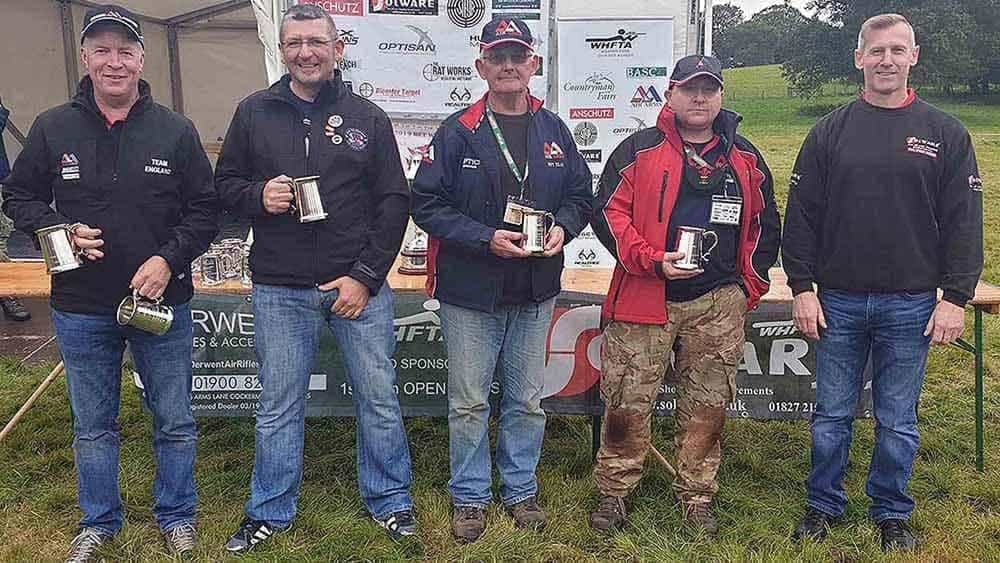 The overall World champion was Thom Van Dokkum from Holland, and only missed 6 targets all weekend. Thom is not only a great shot, but a lovely chap.
The HFT World Championships is the pinnacle of the shooting year and a huge thanks goes to all the course setters, marshals, booking in team and organisers and statisticians for their work and without sponsors like Air Arms, events like this would be smaller and much less fun. For more information on the World Hunter Field Target website or full a full review check out AirGunner magazine.