American Airgunner Challenge - Ian Harford's Story
19 May 2021 | Air Arms
Following the conclusion of the American Airgunner Challenge 2021. Air Arms takes a look back to 2020 and Ian Harford's journey across the Atlantic to being crowned the first ever American Airgunner Challenge Champion.
10 Rounds, 6 Competitors and whole lot of craziness to boot!
The all New American Airgunner Challenge is fast, furious and ferocious! So why? "We wanted to do something different and fun that no one has ever seen done with Airguns. This is a 10-challenge competition with 6 well known personalities in the airgun world doing something that every outdoor sportsman loves… shooting guns and competing!" says Rossi Morreale, American Airgunner Founder and Host.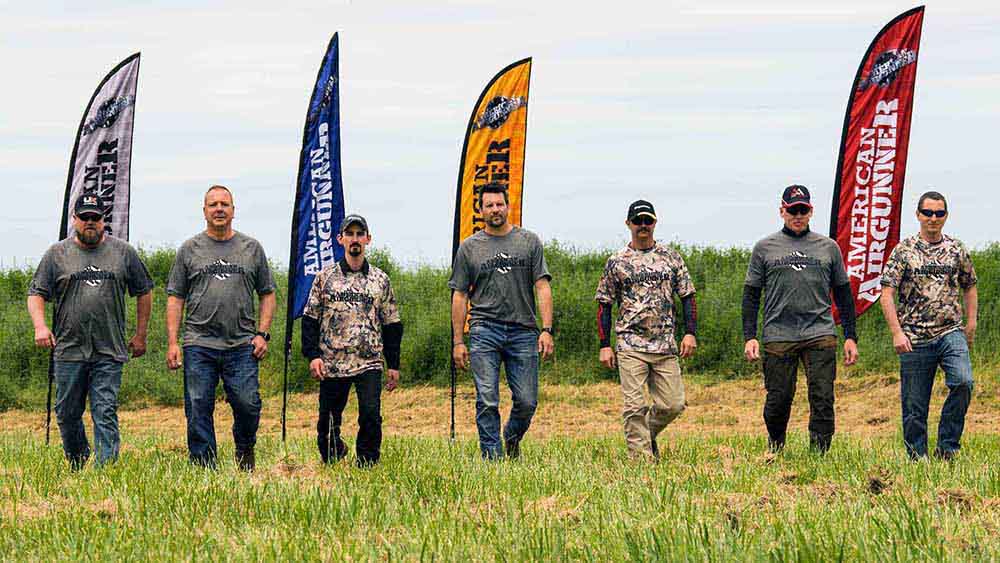 Flying the flag for the Brits, Ian Harford reports with the low down from America's Shooting reality tv show… American Airgunner Challenge.
How it all started
"Hey Babe, I've had a call from Claire West! As you're in the US on holiday in the next couple of weeks, do you think you could nip over to Arkansas and shoot in the American Airgunner Challenge? It's an airgun competition with each of the brands sending a representative shooter. Sadly, Richard Leonard is unable to make it, what do you think?" Said my wife on the end of the telephone!
As it was Claire and she asked so nicely plus, I'm a huge 'Air Army lover' then why not? I'll be in the US having completed a motorbike tour with an old friend checking off his bucket list, sounds like fun, it's a 'plane hop' away and it's just a little airgun adventure with some great guys, let's go for it!
Planes, Trains, Automobiles
A flight delay, a flight cancellation and a stopover later, I arrive in Fort Smith, Arkansas 'Where the New South meets the Old West'. Little did I know that I would be among some of America's biggest names in shooting and competing in one of the Airgun Industries biggest competitions on one of the biggest stages in the world, American TV.
On the lead up to the day I hadn't really considered the enormity of what was about to happen. You see, Airgunning is something I do, something I have been doing since I was a young lad. It feels natural, comes naturally and I find great enjoyment and pleasure in all disciplines from plinking in the garden to competing in FT, HFT and also carrying out some pest control around our local shoots. It's what I do, so what could be so difficult about the American Airgunner Challenge, right? Wrong!
6 well known competitive guys, 10 days of competition and a million twists and turns.
If you're not familiar with Rossi, you should know he's the energy and personality behind American Airgunner. He's a big bundle of liveliness and fun all coiled up waiting to set off like an exploding target, he reminds me of my Cocker Spaniel Bonnie, he never sits still or stops until the whole room is engaged with him. Rossi has a quest, to educate people. His vision is to share the airgun world and showcase just how much fun and capable airguns can be with people who are unfamiliar with our sport. For Rossi, this competition isn't just for raving airgun fans, it's for every sportsman out there. It's all about shooting and competing, and things get interesting, fast. The American Airgunner Challenge is a demonstration of his personality coupled with his passion and enthusiasm, it's fierce!
Six Buddies, at the start:
Tom Adams of Colorado representing Daystate
Ted Bier of Wisconsin representing FX
Joe Brancato of California representing Zbroia
Me, Ian Harford of England representing Air Arms
Eydin Hansen of Texas representing Umarex
Brian Lanseigne of New Hampshire representing Sig Sauer
All competing for the title: 'American Airgunner Challenge Champion', each of us brought something different to the competition, there was a great knit of skills and dynamic personalities. At first, we were comrades, telling tall stories each learning about the other and admiring one another's skills and sporting achievements. The banter was endless, the laughter infectious and my great British sarcasm lost on all of them, which gave me a bit of an edge!
If you asked Rossi about the team of competitors, he would just laugh, lots. "They are absolutely hysterical," said Morreale. "Tom Adams and Eydin Hansen never stop laughing and having a good time. Ian Harford who is by far the most sarcastic man you'll ever meet – it's tricky to believe or understand anything he says. Ted Bier is as fierce and precise a competitor as they come. He is always working things out in his head. Joe Brancato, known as the airgun scientist – big personality, loud and always laughing. Then theirs Brian Lanseigne who is very quiet, but very deadly."
Turn on the competition
Day 1 and suddenly we are focused competitors, going after each other to make a win. It was time for action as the competition got real and Round One was announced. It took me a few seconds to compute what was just announced. "Wrung Whatcha Brung! In the first challenge, you will be using your own guns with your best poker face!" Rossi broadcast. Now, ordinarily this would have been awesome there's nothing better than shooting your own kit having spent hours lovingly perfecting the set-up and balance. But there was one small issue for me, I didn't bring my own gun. I had just flown in from the other side of the US having been on a motorbike touring holiday. "Don't worry Ian, we've got you covered" suggested Rossi. So, here we go.
Round 1: 52 Card Pick Up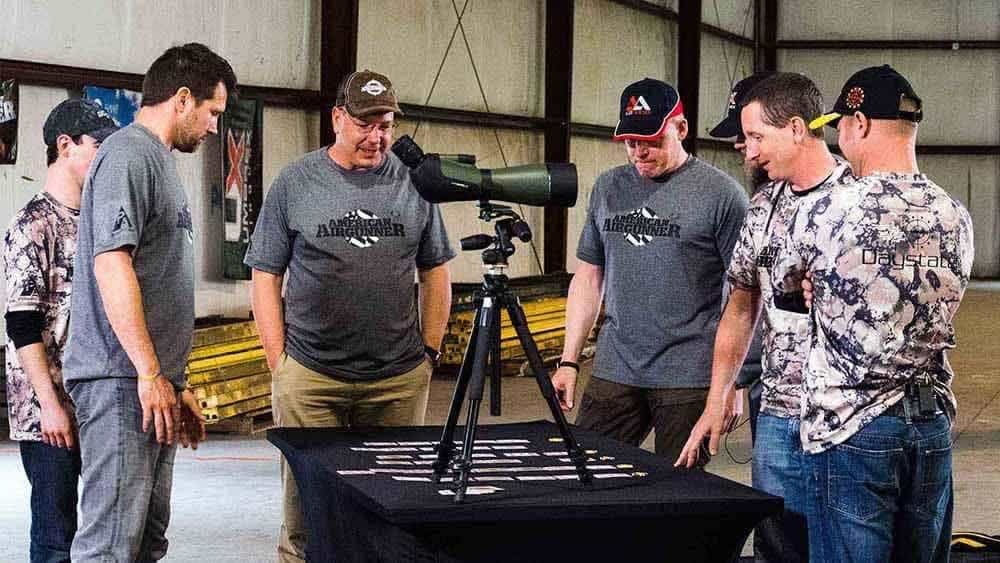 The challengers play poker from 75 yards away using the guns they brought. May the best hand win!
Shooting the Air Arms S510 TDR wasn't quite what I had envisioned as the rest of my now fierce competitors laid down to shoot their meticulously prepared high-power airguns that they spent hours honing their zero and were shooting with pinpoint accuracy. My newly presented Air Arms S510 takedown fresh out of the box didn't feel like it had the same calibre of set-up. Don't get me wrong, I love the TDR having recently completed an Alaskan adventure with my own I knew what the rifle was capable of and although I'm a seasoned Air Arms shooter having spent many an hour shooting most of the rifles in the collection it just wasn't my own gun! I knew right now that it wasn't just down to the rifle, it would be down to the shooter too.
As we all took our turn to shoot, you could feel the nervous energy, the breaths that fell on the silent air were deep and charged with tension. Rossi was charged with his relentless energy and jibing, and it was now all about zoning everything and everyone out and shooting the hand in front of you! I always thought I had a great poker face but not today. Tom took the Win and brought it home for team Daystate. The first leader scores were on the board.
Day 1 was so thrilling. The energy, the comradery and the competition were all so electric. We were exhausted come the end of the day. You never knew what was coming next, it's surprising what happens when you take six well-rounded shooters completely outside their comfort zone.
We all went to bed wondering what was coming.
Round 2: American Airgunner Challenge Carnival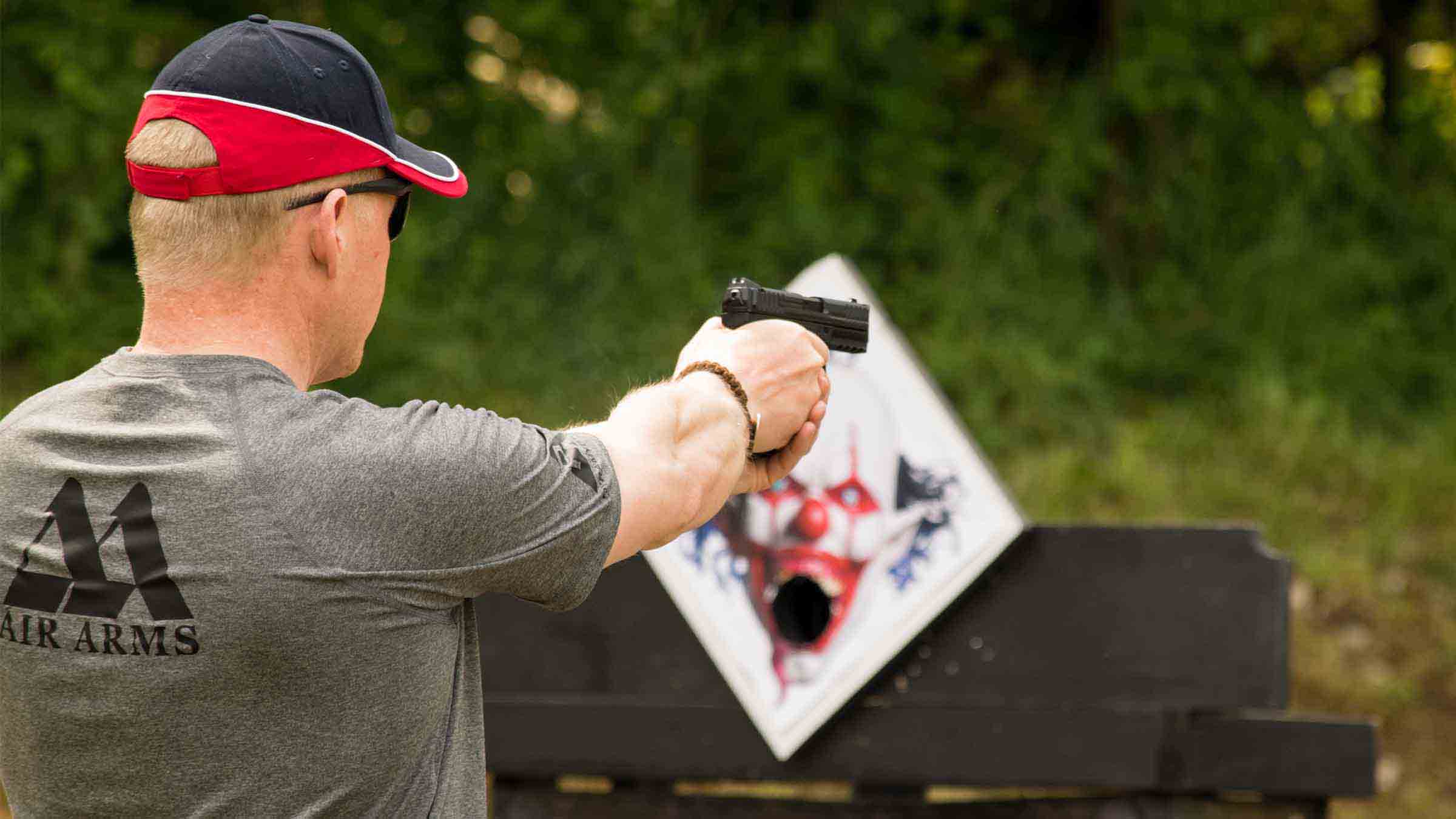 Ian demonstrating his pistoleering skills
With that ear to ear smile on his face Rossi ushered us to come forward with a "Gentlemen, welcome to the carnival". Thoughts of a carnival conjured up childhood memories of candy floss and hook a duck, so immediately it felt like we were in for some fun. However, the Airgunner Carnival was not going to be short of a challenge or two in a CO2 Pistol Shootin Showdown!
I'm not a pistol shooter and I'm in no doubt that this shooting discipline uses different technique and handling skills. I keep my cool and shrug off any suggestion that I'm not a pistol shooter. "Pistols it's all the same, once you've handled one you've handled them all" I taunt my fellow competitors. Were they unnerved by my steely 'I've got this' down demeanour? Only time will tell!
3 Glocks, 3 Stages and a lot of festival fun! Toys on a shelf, rotating lollipops and shooting into the mouth of a clown were the order of the day. I would say that pistol shooting is actually an art. It's quite tricky, not only have you got to line up your site, but balance is also key to placing a successful shot. Not something I possess a lot of, but it was huge fun.
Eydin clearly had the most fun at the Carnival and took the Win.
Round 3: Long Ranger
Today is long range day. Three positions, three distances, shooting exploding targets, what have they not told us? is the first thing that came to my mind. With a strong wind and small ammo, there you go there's the twist, I have a chuckle to myself. I think this is the most fun I have had airgun shooting for quite some time. What's not to love about this rollercoaster of a challenge. Each day we were being pushed to another level of shooting, learning something new about airgun shooting with a different type of rifle and a different take on the disciplines we already know and enjoy. Today is Daystate Airwolf High Power day.
We head to the long range, it's hot and windy. We're faced with five jars with firebird targets on them. Five shots at each jar. Stage 1 is 100 yards laying down, worth 5 points. Stage 2, sitting or kneeling at 125 yards, worth 10 points. Stage 3, standing only at 150 yards, worth 15 points. Whoever has the most points at the end wins… there's a 10-minute time cap!
Yes! I have a little fist bump moment. I should do well here, this has got to be my kind of shooting, it's what I do but can I do it within the time cap?
Well, sadly not. Today wasn't my day either! Ted Bier took the Win.
I have a word with myself. We're a third of the way through and as yet I haven't really put any big scores in. At the start of the challenge, I was here for the giggles, spending time with great people and making some great memories, but I feel competitive, I feel an energy, a need to score. Was it Rossi rubbing off on me with his 'get out there and win' attitude? After round two I was bottom of the board with 25 points, Eydin top with 50 points and now Ted has taken the win today, he's put himself back in the top of the table, so who knows where I'll be come tomorrow. I have to level to board, somehow!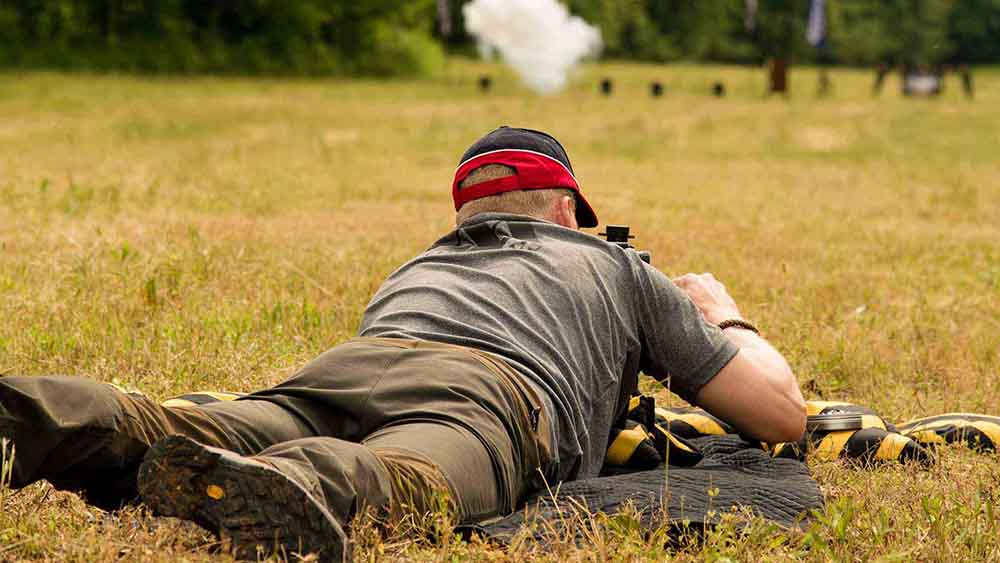 Round 4: Air-Runner Challenge
Target Sprint is a relatively new sport sweeping the international stage driven by Air Arms and British Shooting. Now Rossi knows we're all great shooters, but I wonder how we all fair at running! I hadn't come prepared to run, in boots! I needed my trainers, my sports gear, if I was going to really compete in this competition. Eyeing up my fellow competitors I was sure I could take them on, the only one that I thought was slight and swift enough was maybe Tom and possibly Ted even. I had to do well, there was no room for error today.
There's no surprise that from the twists and turns we've already seen throughout this competition we're about to hit another level in the AirRunner Challenge! Tom had the fastest overall time, I believed today wasn't my day either and that I had fallen behind another day in adding points to my score, or so I thought!
Surprise, Ian Harford is the winner! It was only the shooting time in the box that counted. YES!!! I head up the leader board to fourth place. My competitiveness reaches new heights, tomorrow I have to do well, I have to get myself in the top 3 for any chance of reaching the final showdown.
The heat is on…
With a renewed energy following my Round 4 WIN in the Airrunner Challenge, I have a competitive spark back in my demeanour, today felt like a new day and a fresh start to the competition. The guys had brought their game face but they hadn't seen competitive 'H', so far they've only been on the receiving end of poor British sarcasm and continuous ribbing leading them into a false sense of security that this guy was a 'rookie', this guy was in fact a champion of sorts with a few airgunning titles in the bag as well as being an all-round sound marksman. This guy was feeling like he was back in the game, I just had to hold my aim, keep my cool and run head on into each challenge and take each day as it came. This guy, deep down inside fancied a win, was that even possible?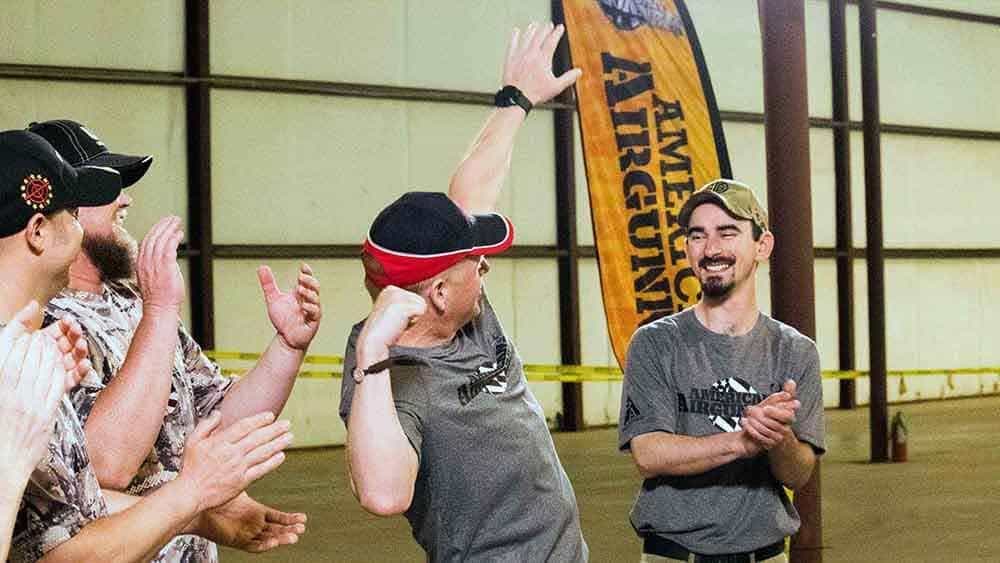 Round 5: The Dead Eye Dual
Day 5 and the opening question "who can handle the pressure?" Rossi sure knew how to capture an audience and how to have extreme fun. Was this another play on words? All we knew at this stage was we needed to bring our A Game! We're halfway through the competition and every WIN is a step closer to that belt, the WWF style airgun champion belt, somehow it was calling us, taunting us and it looked epic!
Mano a' Mano a head to head battle was about to go down. This is where the competition was about to get hot. Speed, accuracy and ego were all on the line! Using a custom Rx Target System the aim of the game was to outshoot your component. Shooting side by side, it was a race to the middle of the targets, the first person to hit the centre would cause an explosion! A firebird target would let you know if you made the hit before your comrade. It certainly got the adrenaline pumping; I could feel my heartbeat pulsing through the scope.
My focus was on Ted, I felt like he was a good contender for this challenge. He's slight, accurate and super focused, which could give him an advantage. Tom could be one to watch too, he's a bit of a speed demon. Hilariously when interviewed Ted suggested he was watching me! Other than all the bravado I had thrown his way, I am not sure that I was a). quick enough or b). slight enough. I'm the tortoise built for the long haul, not the hare!
No one was watching out for Brian Lanseigne who took us all by surprise and bagged the win! It was like he slipped through the net unnoticed and side-lined us all! Wow, disappointing but bang on shooting!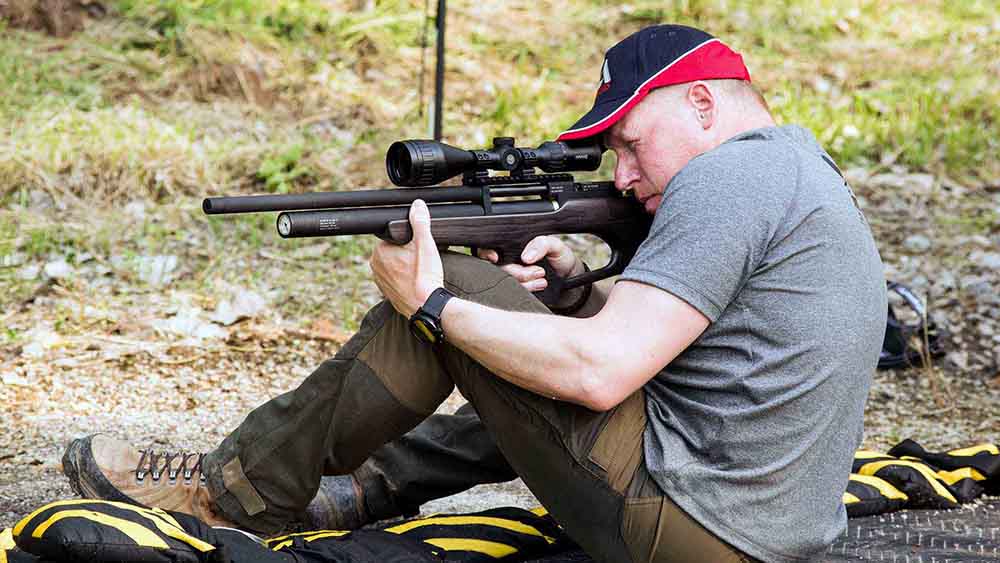 Round 6: "Big Bore Smash"
"It's time to bring out the big dog a .45 cal Airgun for some beautiful destruction" announced Rossi as we took our seats for today's briefing. Let's see who has the skills to blow up targets, split bricks and find the precision needed to take a win in this Big Bore Smash. This sounds like my kind of shooting! I know going into this challenge that Ted doesn't shoot big bore, so I can take my eye off of him for a minute, but not too long!
Shooting Soda bottles at 75 yards, splitting bricks at 100yds, and exploding Firebirds at 125yds this was going to be a day fuelled with intense excitement. It's certainly not your average airgun shoot. I know you don't just rock up and shoot these targets at a local club, but you do shoot these distances in practice and at most competitions, not necessarily as part of the main shoot but there is often a side hustle. This is why I think I am enjoying every moment of this challenge.
We are shooting distances we naturally shoot; we are using positions that we use but the targets are fierce and full of energy, they reflect Rossi! Exploding pop bottles is how I imagine Rossi on the inside throughout this competition. He's such an excitable character, like a working Labrador that lacks self-control. I am surprised that we're on day 6 already and he hasn't told us a bean, or an ounce of 'intel', it must be eating him from the inside out. How can you plan such an astonishing challenge and not say anything! I mean, this is why I feel the competition has the intensity, the twists and the turns and the high-octane adrenaline fuelled energy that it has, it's based on Rossi's personality.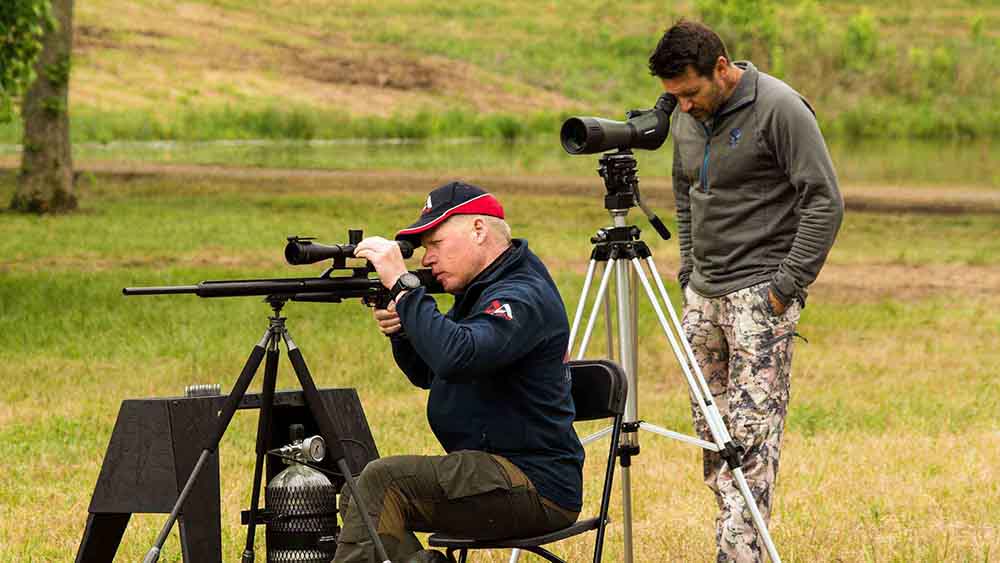 Today has to be one of the best days so far, apart from losing, again! Who would have thought it - Tom Adams takes a second Win! Tomorrow is another new day…
Round 7: Air-Sniper
Are you a surgeon when it comes to precision? Sounds interesting, right? You bet! So long as we weren't expected to perform surgery, I was kind of okay with the surgeon analogies. However, splitting cards, cutting swabs and shooting the centre of CD's without scratching it sounded, well, interesting.
We were soon on the range, but little did we know that this was going to be the most intense challenge yet with a .30 cal! 75-yard cue tips to split, 50-yard playing cards to cut in half and at 25-yards 3 CDs to hit straight through the centre without touching or scratching the inner rim.
Every breath and pull on the trigger counted. We were shooting inside an industrial style unit, so there were no other elements left to consider. Any left-over pellets gained extra points, so every shot was going to count. I needed to take my time and use as few shots as I could to hit the targets, I knew Brian was comfortable with the gun from the test range, he said it felt familiar and the trigger pull was what he was used to so it came as no surprise to me when he won this round. He was the last to shoot, everyone was kept separate. We didn't know each other's scores, but you could hear every plink and 'hell yeah'! It appeared he had time to relax and figure out a game plan.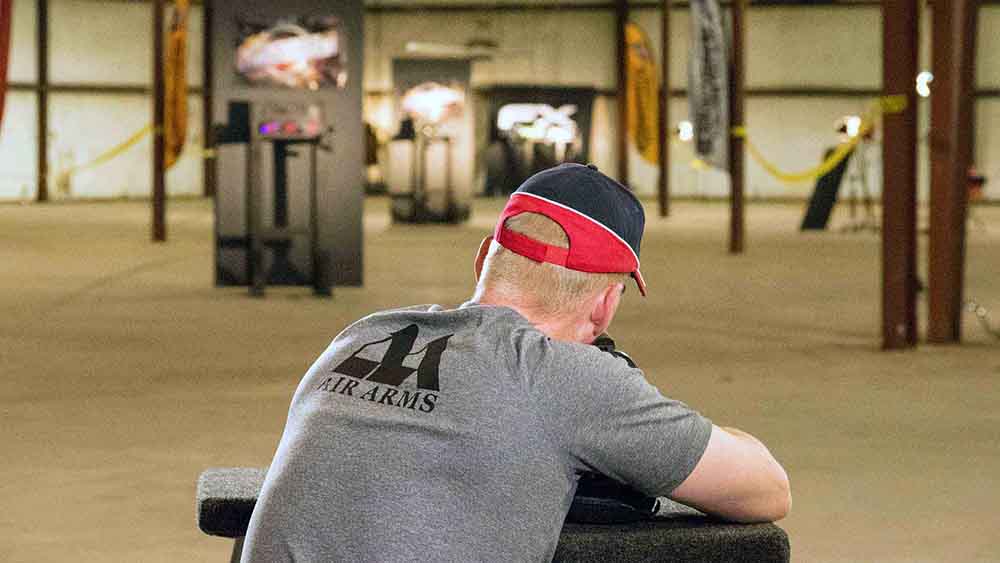 Round 8: 3 GUN Bonanza
Yes! (visualise a fist bump here!) Finally, I take a round WIN but not without its Morreale rollercoaster of a ride in a three Gun Bonanza shoot-out! Shooting a .177 CO2 pistol at balloons was totally new to me, as I said before I'm not really a pistol shooter and never really got into it but let me tell you, it was immense fun! Shoot the balloons, put the pistol down and jump onto a Jeep, get strapped in and shoot 30 targets out of a moving vehicle! WHAT!? and finally run over to the break-barrel, shoot firebird exploding targets at 10, 20, 30 and 40 yards. The fastest man wins, a fast-furious round based on accuracy and speed. And I WON! I feel awesome!
Two wins in the bag…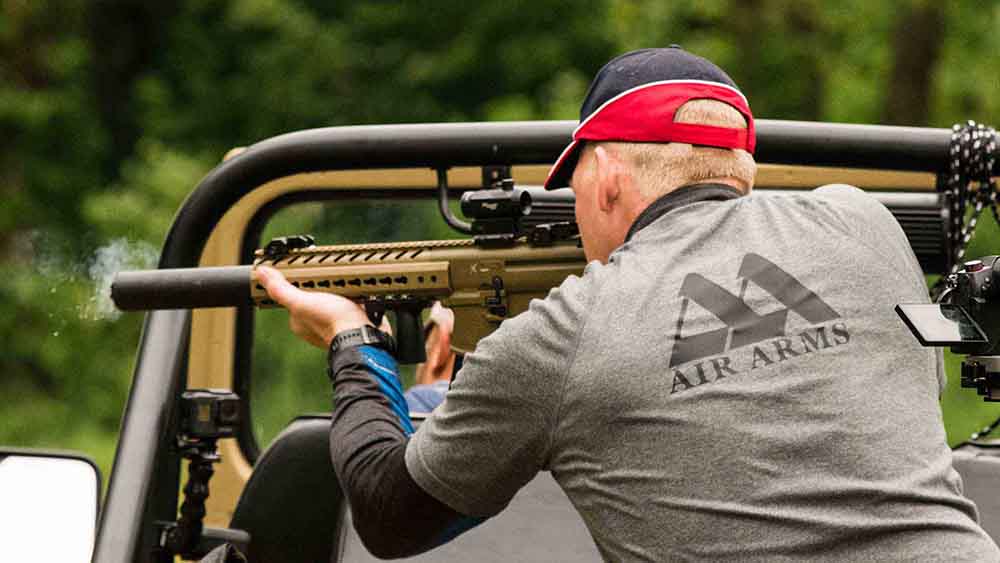 Round 9: SHOWDOWN
This isn't your average speed silo rodeo… it's going to be a wild ride were the words of our American Airgunner challenge host and newfound airgunning friend, Rossi. One result is certain from this two-week challenge, I've not only spent time with some very talented guys and incredible airgun shooters, but I have just made six new friends, for life.
Man, to man. Winner takes all in this head to head showdown. This challenge is all about speed and stamina as we take on the Speed Silhouettes and a few tempers during this challenge!
Using an under-lever springer with a 12 round magazine we have 16 targets placed at 10, 20, 30 and 40 yards. The fastest man wins, what's my tactics? To be faster than the next guy! Rossi presented us with a shooting mat and two sandbags, the rest was up to us. This is the first time in the competition that there hasn't been a set shooting stance or style. Would we be penalised at the end for our choices, where's the catch? No, there isn't one!
This just bought a bit more excitement, a bit more pressure it was going to be a blood tussle, one where all of your game plan goes out the window where you see what shooting position your competitors use and use the same, where you get fiddly fingers and a few split seconds reloading that magazine feels like an eternity.
It's Lanseigne he takes his third win… this guy is on fire!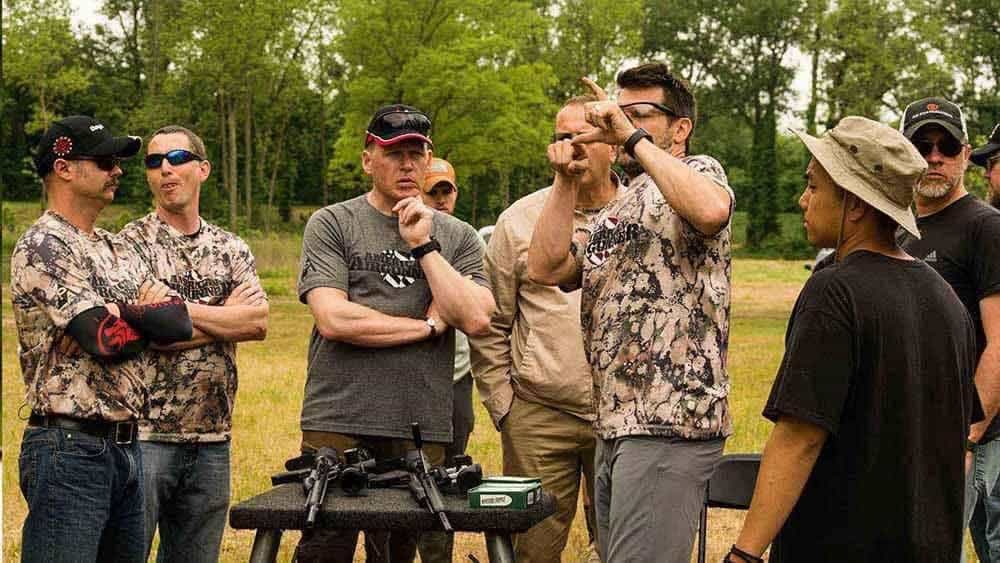 THE FINALE…
It all comes down to THIS! A 2-part finale with 3 stages of shooting and they're splitting us up! The first 3 shooters will be Tom, Eydin and Joe.
Whoever walks away with the most points from this final round will be crowned the 2020 American Airgunner Challenge Champion! Woohoo!
Ten days of airgunning madness, the final chance for airgun glory comes down to today!
There's been so many thrilling moments, ferocious battles, six of us fighting for the chance to be crowned American Airgunner Challenge Champion! I can't afford any more 'Rookie' mistakes, there are no excuses, there's no going back to the start, today it all counts!
I start visualising that egotistical oversized belt! All I can see is Rossi parading it around the ground, it's a real thing and for some strange reason I am drawn to it, to what it represents and all its glory. I want that belt!
This is going to be fierce. We're shooting the same gun but three disciplines. An airgun that shoots slugs, shotgun cartridges and arrows! This is insane, we're going to be shooting skeet with a 'shotgun' styled airgun! We're also shooting at a car, not just any car, well it wouldn't be with Rossi on the challenge team, it's a car hanging 60ft above the ground covered in all different sized firebird targets and the smaller the target the bigger the points, oh and if that wasn't tricky enough, it will be at a 45 degree angle.
There are points to be scored everywhere on the field today, this competition just opened up and it's anyone's belt right now. It's going to be all about picking your targets wisely, there's a real opportunity here. I mutter to myself something that a wise old friend once said to me when the next shot was vital, 'dunna miss!'
It's our time to shoot, I'll be shooting with Brian and Ted and our scores heading into the final, it's close: Brian – 210, Ian – 195, Ted – 160
You could cut the atmosphere with a knife. The whole competition has been tiring, testing of character, confusing and tough. It's all down to this final moment. Brian has won three challenges and feeling pretty confident. Ted on the other hand is unfamiliar with shooting a shotgun, he says it's all about muscle memory, so I feel like this is a concern for Ted. I have to say I'm feeling pretty buoyant. Here I am going into the final shoot out in second place, only 15 points behind first place. If I can score at least 30 points here, I can apply some pressure to Brian and perhaps play with his physique a little!
A Climatic finish! You bet, when that car got lowered to the ground and those scores were tallied it's the most suspense I have ever felt. In true Rossi style he shouted from the roof tops, Ian Harford you are our American Airgunner Challenge 2020 Champion… How do you feel, "I have to say, I'm feeling pretty champion!"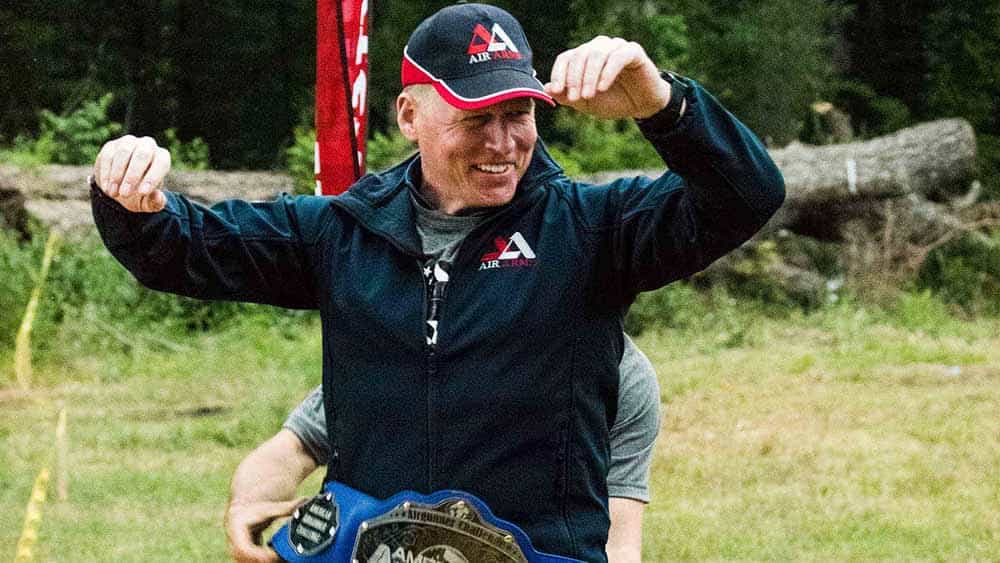 Huge thanks go out to Claire West of Air Arms for believing in me and selecting me as her shooter for the challenge, to Rossi and his team for the tremendous competition and hospitality and to my new comrades Tom, Ted, Joe, Eydin and Brian for making this one of the best experiences of my life, the fun was fierce, the memories are in abundance.
Be sure to follow American Airgunner for behind the scenes footage and announcements for the American Airgunner Challenge 2021!